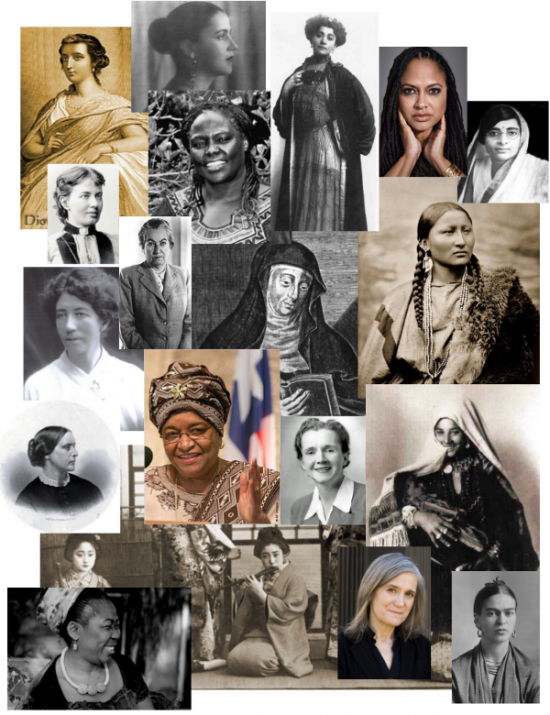 In Her Own Voice
Multi-media opportunity! In Her Own Voice is a powerful showpiece for performers, artists, actresses and choreographers.
Commissioned by the Ithaca Flute Duo.
"In Her Own Voice has great color and persona. Worthy of multiple listenings!" ~ Composer Ken Kreuzer
Lyricist: Sora Jederan-Shpack
This dynamic work celebrates the lives and accomplishments of many amazing women throughout history. Touching on musical sounds from around the world and throughout time, In Her Own Voice is a call to every woman to rise to her unique potential.
Product
Instrumentation
Price
Duration
Level
Audio
View Score
Quantity
SJS-061-00
Printed Score
2 Flutes, Piano, Cello, Perc., Speaker
$26.00
11:45
MA
SJS-061-00P
Licensed PDF
2 Flutes, Piano, Cello, Perc., Speaker
$16.00
11:45
MA
In Her Own Voice - Text
Sora Jederan-Shpack
Within the void of emptiness... 
their faces appeared. 
Female faces, 
vibrant, warm, radiant.
Their countenance illuminated the darkness.
They arrived one after another,
from their respective continents and periods of time. 
Ancient women Buddhas, today writers and gender activists, (JAPAN)* 
Ancient women priestesses, oracles, philosophers, (GREECE) 
Women saints, heroines, martyrs, (EUROPE) 
Medicine women, tribal decision-makers, (AMERICA'S FIRST PEOPLE)
Forest women, Savanna women, desert women are sustainable entrepreneurs, social and civil rights activists, (AFRICA) 
Aum Namah Shivaya, ancient women Bodhisattvas, today freedom fighters, doctors, lawyers, (INDIA)
Middle Eastern woman artists, musicians, directors, professors, med-techs, architects, teachers, students, (MIDDLE EAST)
After midnight, in the shadows of street corners, they alerted their neighbors, the Hen Patrol, the Petticoat Brigade, today the Women of Peace, (IRISH) 
Women journalists, justices, presidents, leaders of all kinds, 
And so much more. (SOUTH & LATIN AMERICA)
Women United, All Over The World, We Are One! (WORLD BEAT BOXING)
Many amazing women, known and unknown, 
these are they who defied their shadows of fear. 
Saw in those shadows the same fears of a thousand others and cried! 
"We will walk with you at our side,
yet you will not determine the length, power or direction of our stride." 
Many amazing women, past, present and future, 
each in her own way - beautiful, elegant and articulate. 
She is curious, exuberant, contemplative, industrious, determined, confident, courageous, 
And so much more. 
Striving against all odds, 
she presses forward without looking back.
Accomplishing her goals, 
she is authentic and unique. 
Envision, encourage,  
sisters, mothers, daughters,  
these many amazing women, 
each in her own voice. 
* The country names in capital letters are just a point of reference for the musical composition. They are not to be spoken or sung during the performance and they are not part of the poem itself.